Csilla Buda , Head of Office at Chamber of Commerce and Industry of Fejér County
http://www.fmkik.hu
Bilateral Meetings
14.05.2013 Tuesday (10:00 - 14.00)
14.05.2013 Tuesday (15:00 - 18.00)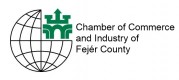 The Chamber of Commerce and Industry of Fejér County has been acting as a public body and economic chamber since 1 January 1995. As of 1 November 2000, membership is voluntary. Main tasks are economy and trade development, regional development, vocational training. From 2004 it has ISO 9001 standard, in 2006 it was granted the European C2E , in 2009 the R4E 4* Award , also it is accredited institution of adult education.
Our Chamber of Commerce offers information and advice about different aspects with internacionalization to companies and organize promotion activities involved with business cooperation. Among these activities are: organization of direct or inverse trade missions, participation in international trade fairs and matchmaking events, establishment of commercial contacts among companies located in different countries by participating in business meetings, general information about business oportunities of Hungarian market and search and dissemination of commercial information¡, support and financing promotional activities abroad, information and advice about EU policies and programmes.
We actively support our member firms to go international by organising company missions and brokerage events. We are open to cooperation in all types of partnership possibilities among our partners.
Country: Hungary
Organization Type: Other
Organization Size: 26-50
Founding Year: 1994
Phone: +3622-510316
Email: csilla.buda@fmkik.hu
City: Székesfehérvár 8000,Hosszúsétatér 4-6. Google map