Bilateral Talks
| | |
| --- | --- |
| Participants | 87 |
| Meetings | 226 |
Profile views
| | |
| --- | --- |
| Before Event | 5471 |
| After Event | 276830 |
Automotive Industry
70 years of tradition and cooperation with western OEM's

Production of 200,000 cars per year

Exceptional tax and customs conditions

JIT and JIS service of Europe and Asia Minor
Capital Investments Serbian automotive industry is not only strategically important for the country, but it attracts excessive attention of foreign investors accounting for more than 30% of all FDI inquiries and announcements. Over 70 years of tradition in producing cars is today boosted by extremely favorable custom, tax, logistic and infrastructural conditions, while FDI projects are financially supported by the Serbian government. As a result, the automotive projects have accumulated more than €1.3 billion of foreign investments in Serbia since the year 2000, thus creating close to 20,000 new jobs.
The Largest Foreign Investors in Automotive Industry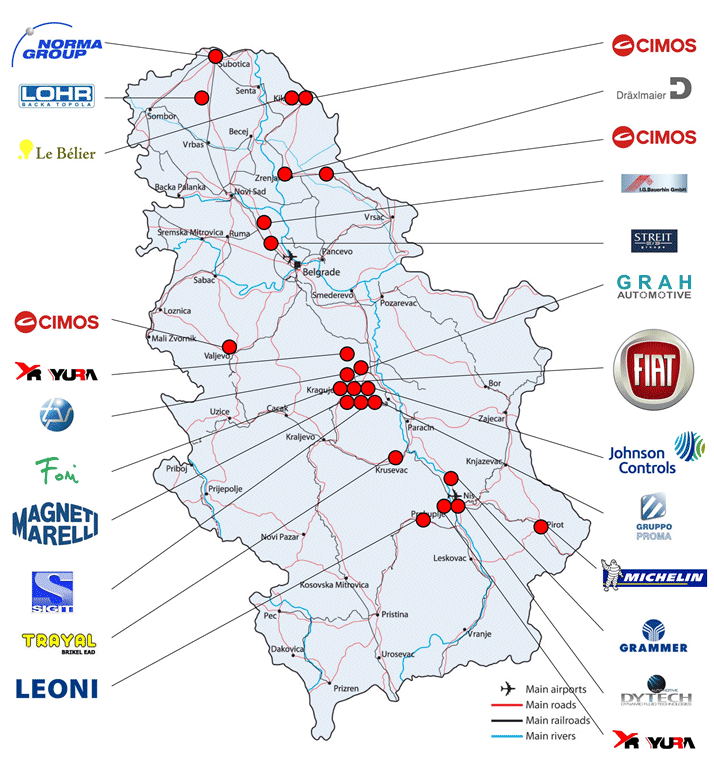 The Opportunity National strategy to further develop automotive sector resulted in an agreement between Fiat Group and Serbian Government. Thus, in 2008 it transformed the old Zastava Automobili plant into what is now Fiat Automobiles Serbia. Fiat's business plan stipulates a complete refurbishment of 350,000 m2 of Zastava and a production of 200,000 passenger cars, starting from 2012. For this purpose Fiat is investing €900 million in the Zastava plant, supported by €200 million in incentives from the Serbian government. Local suppliers of all sizes, sectors and tiers and international companies are eager to do business in the booming environment of car production.
Quality Works Many companies seek the advantage of skilled but yet inexpensive Serbian workers, in order to increase their competitiveness. The free trade agreements of Serbia allow them to favorably serve their global markets with products of quality at low cost. The educational system in Serbia, with 9 technical faculties for white collar and 71 secondary technical schools for blue collars, guarantee a constant availability of productive and inventive workforce ready to produce any car parts.