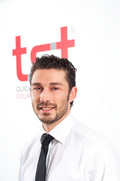 Aydin Hanedar , GM at TST Germany GmbH
http://www.tst-germany.com
Bilateral Meetings
14.05.2013 Tuesday (10:00 - 14.00)
14.05.2013 Tuesday (15:00 - 18.00)

TST in Profile

TST is a leading manufacturer of quick-coupling connections for
hydraulic, pneumatic, and water-operated systems as well as
multi-coupling connectors for a wide variety of diff erent media.
The company, which was founded in 1989, off ers a complete range
of more than 8,000 products and accessories. TST's development
and production facility is situated in Gebze/Turkey, a few kilometers
east of Istanbul.

TST quick-coupling connections provide excellent safety and reliability.
They are compatible with most common couplings in the
international market, be it for hydraulic oil, water, other liquids,
gas or compressed air. TST systems cater to machine manufacturers
and mould makers, plastic and metal processors, to the painting
and chemical industry as well as to equipment manufacturers and
test stand operators. Many renowned and leading machine manufacturers
have been working with TST coupling systems for years.

About three quarters of TST's total turnover is attributed to
standard couplings while customized products account for the
remaining quarter. Since 1997, TST has been steadily stepping up
its international sales eff orts and has successfully increased its
export rate to 85%.

TST is certifi ed to ISO 9001:2000. TST's sales network is distinguished
by its personalized customer service. Developing its
products in close cooperation with customers, the company
carries out customer satisfaction analyses at regular intervals and
aims at continuous improvement.
Country: Germany
Organization Type: Company
Phone: +49 7161 98796-50
Email: a.hanedar@tst-germany.com
City: Göppingen 73037,Jahnstrasse 86 Google map