Bilateral Talks
| | |
| --- | --- |
| Participants | 87 |
| Meetings | 226 |
Profile views
| | |
| --- | --- |
| Before Event | 5471 |
| After Event | 311689 |
14th May 2013, Kragujevac, Serbia
Meet the Buyer on SEE Auto Compo NET 2013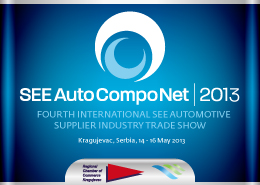 SEE Auto Compo Net 2013 trade fair, as previous years, will be the most significant specialized automotive suppliers' trade fair in Serbia and South East Europe in year 2013. With this year's organization, this trade fair holds it's reputation as gathering point of suppliers, buyers and managers together with users of products and services for production, maintenance and service of automobiles and commercial vehicles.
In the recent years, Serbian industry has steadily moved forward by improving its knowledge, productivity, and efficiency built on the strong industrial legacy. Combined with its favorable location, free trade access to an outstanding market size, and various other advantages, Serbia is in the excellent position to entirely connect with the global supply network. Serbian export has doubled since 2005 reaching 10 billion EUR in 2011 while total trade volume in the same period also doubled, reaching 25 billion EUR. This growth was stimulated by almost 20 billion EUR of mostly export-oriented investments, increased capacity of Serbian companies to serve international markets, as well as a growing demand in Serbia.
Focus
The event will focus on automotive sector where SEE companies can find the best solutions for their business portfolio during the first day of SEE Auto Compo Net 2013 Fair. The event will provide company executives, who have active purchasing, outsourcing or location selection requirements, with the opportunity to access a number of qualified and pre-screened SEE suppliers. On the other side, SEE suppliers will have the unique opportunity to present their products and services to the renowned international companies in one day.
Benefits to Buyers:
A great number of respectable suppliers from South East Europe
New sources opportunities
Meet the top buyers in one day at one location
"Face to face" appointments
Event Language: English
Costs: Free of charge
Dates for your diary:
| | |
| --- | --- |
| Deadlines | Tasks |
| 7 May 2013 | Registration and submission of a cooperation profile |
| 7 - 12 May 2013 | Online selection of face-to-face meetings |
| 14 May 2013 | Bilateral Meetings (10:00 - 18:00) |